Polestar Car Rentals at Cagliari Airport
UNBEATABLE VALUE CAR RENTAL





Polestar - Cagliari Airport
check_circle
6 Polestar car rental quotations searched.
Popular Polestar models to rent:
About Polestar Rental Cars at Cagliari Airport
Welcome to the world of Polestar, a brand that has carved its niche in the electric car market, known for its remarkable dedication to sustainability and innovation. Hailing from Sweden, the brand's core values revolve around simplicity, functionality, and respect for the environment. Its vehicles are designed and manufactured with precision, offering a seamless blend of performance and luxury. For travelers landing at Cagliari Airport, the opportunity to experience the elegance of a Polestar vehicle is just a booking away.
Embrace the Future with Polestar 2 at Cagliari
The Polestar 2, available for rent through HERTZ, is a perfect companion for the streets of Cagliari. This all-electric fastback offers a range of 292 miles, allowing you to explore the city without fretting about the next charging station. The vehicle's minimalist design is a nod to its Swedish origins, providing a serene environment for the passengers.
Equipped with a 78 kWh battery, the Polestar 2 produces 408 horsepower, providing ample power for the winding mountain roads surrounding Cagliari. Its regenerative braking system ensures energy efficiency, making it an excellent choice for eco-conscious customers looking for an amazing Cagliari Airport Car Rental.
The Polestar 2 features a state-of-the-art infotainment system powered by Google, offering seamless connectivity and accessibility. Its spacious interior and ample boot space make it an ideal choice for families or groups of friends visiting Cagliari. Whether you're a business traveler seeking comfort and connectivity or a family in search of a spacious, eco-friendly vehicle, the Polestar 2 is an excellent choice for unbeatable Cagliari Airport Car Rental prices.
Driving a Polestar rental in Cagliari not only provides the comfort and performance synonymous with the brand but also contributes to a sustainable future. It's an opportunity for people searching for the best value Cagliari Airport Car Rental to experience the future of motoring while enjoying the picturesque beauty of Sardinia's capital.
Polestar Vehicle Rentals by Group Available at Cagliari Airport
Which Car Rental Companies Offer Rental of Polestar Cars from Cagliari Airport?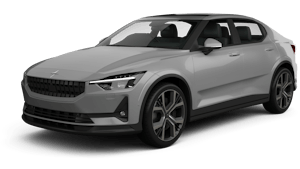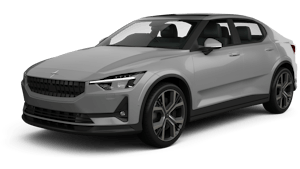 Polestar 2 Rental Vehicles - Specifications
Drive wheels
Front wheel drive
The specifications shown are for informational purposes only, we cannot guarantee the exact Polestar 2 vehicle model and specifications you will receive. For specific details you should check with the given car rental company at Cagliari Airport.
Polestar Vehicle Rental at Cagliari Airport - FAQ
question_answer Which car rental companies offer Polestar car rentals at Cagliari Airport?
The following car rental companies at Cagliari Airport offer a range of models of Polestar:
HERTZ
question_answer Which car rental company at Cagliari Airport offers the cheapest Polestar car rentals?
question_answer Which automatic Polestar cars are available to rent at Cagliari Airport?
The following automatic Polestar cars are available to rent at Cagliari Airport:
Polestar 2
Alternative Car Brands Available to Rent at Cagliari Airport
We have 131 different types of vehicles from 25 manufacturers provided by 34 car rental companies at Cagliari Airport.