Cagliari Airport Arrivals (CAG)
Not all flights may be showing. If not available use search above to find your flight by airline, airport or flight number.
Origin
Airline
Flight no.
Scheduled
Est./Actual
Status
Milan (LIN)
ITA Airways
AZ1530 expand_more(2)
12:45
Scheduled
Milan (LIN)
Air France
AF9801
12:45
Scheduled
Milan (LIN)
KLM
KL3197
12:45
Scheduled
Milan (MXP)
Ryanair
FR4561
12:55
Scheduled
Paris (BVA)
Ryanair
FR4832
02:30
Scheduled
Milan (LIN)
ITA Airways
AZ1576
02:50
Scheduled
Rome (FCO)
ITA Airways
AZ1597 expand_more(5)
03:20
Scheduled
Rome (FCO)
Air Baltic
BT5531
03:20
Scheduled
Rome (FCO)
Bulgaria Air
FB1664
03:20
Scheduled
Rome (FCO)
Delta Air Lines
DL6702
03:20
Scheduled
Rome (FCO)
KLM
KL3184
03:20
Scheduled
Rome (FCO)
Tarom
RO9731
03:20
Scheduled
Bologna (BLQ)
Ryanair
FR18
03:25
Scheduled
Rimini (RMI)
Ryanair
FR9122
03:30
Scheduled
Bergamo (BGY)
Malta Air
FR3480
03:55
Scheduled
No flight arrivals were found at Cagliari Airport.
Flight Arrivals at Cagliari Airport
Cagliari (Elmas) Airport is the main airport for passengers travelling internationally to the island of Sardinia and more than 4.37 million passengers travel through the airport every year.
There is one terminal at Cagliari airport with two runways receiving passengers from more than 30 cities around the world and a number of airlines offer flights to Cagliari, including EasyJet, British Airways, Lux Air and Air Berlin.
Arrivals is located on the ground floor of the three-storey terminal and there is a short stay car park located right in front of arrivals, offering 10 minutes free parking for drop-offs and a variety of tariffs for longer stays. There is also a long stay multi-storey car park at the airport with parking priced at €3 for the first hour and with decreasing tariffs after that.
The airport, which was upgraded in 2003, offers a variety of facilities including shops, cafes, restaurants, banks and ATM's, as well as a business centre and executive lounge.
A wide range of car rental companies are located in the arrivals hall at Cagliari airport.
While there are no hotels situated at the airport itself there are a variety conveniently located just a few kilometers away and in the city of Cagliari, which is just 9km from the airport. The Elmas Aeroporto railway station is just a five minute walk from the terminal and offers direct and connecting services to a number of locations across the island. There is also a bus service, which runs every half an hour to the city of Cagliari. There is a bus stop in the arrivals area of the airport and can be easily spotted by the blue and white ARST sign.
Taxis can also be obtained either from outside the arrivals areas or from a number of taxi ranks around the airport.
Was your flight delayed or cancelled?
You may be eligible to receive up to 600 EUR compensation per person in your party..
Claim Now!
Beat the Queues
Don't stand sweating for 45 mins waiting for Security. Get a fast track and get through in 5 mins or less.
Book now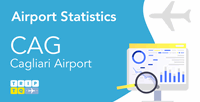 Cagliari Airport in Italy has emerged as a beacon of resilience, witnessing a 4% increase in passenger traffic in September 2023 compared to the same month in 2019.