Flights, Arrivals & Departures at Cagliari Airport
Origin
Airline
Flight no.
Scheduled
Est./Actual
Status
Milan (MXP)
easyJet
U23565
08:00
07:44
Landed
Rome (FCO)
ITA Airways
AZ1585
08:05
08:24
Landed
Zurich (ZRH)
Edelweiss Air
WK388 expand_more(1)
08:05
07:47
Landed
Zurich (ZRH)
Swiss
LX8388
08:05
07:47
Landed
Verona (VRN)
Neos
NO6974
08:20
07:50
Landed
Rome (CIA)
Ryanair
FR6753
08:25
07:58
Landed
Hamburg (HAM)
Eurowings
EW7862
08:35
08:39
Landed
Milan (LIN)
ITA Airways
AZ1554
08:40
08:19
Landed
Bologna (BLQ)
Ryanair
FR3966
08:45
08:32
Landed
Dusseldorf (DUS)
Eurowings
EW9868
08:55
09:10
Landed
Stuttgart (STR)
Eurowings
EW2864
09:05
08:36
Landed
Rome (FCO)
ITA Airways
AZ1533 expand_more(1)
09:35
09:39
Landed
Rome (FCO)
Delta Air Lines
DL6642
09:35
09:39
Landed
Poznan (POZ)
Ryanair
FR7220
09:40
09:15
Landed
Brussels (CRL)
Ryanair
FR4417
09:45
09:26
Landed
Porto (OPO)
Ryanair
FR5265
09:50
09:36
Landed
Turin (TRN)
Ryanair
FR8690
09:50
09:43
Landed
Venice (VCE)
Ryanair
FR1551
10:15
10:04
Landed
London (STN)
Ryanair
FR2687
10:30
10:16
Landed
Rome (FCO)
ITA Airways
AZ1591 expand_more(1)
10:35
10:51
Landed
Rome (FCO)
Delta Air Lines
DL6704
10:35
10:51
Landed
London (LGW)
British Airways
BA2616
10:45
11:16
Landed
Frankfurt (FRA)
Lufthansa
LH340 expand_more(1)
10:50
10:49
Landed
Frankfurt (FRA)
Air Canada
AC9680
10:50
10:49
Landed
Milan (LIN)
ITA Airways
AZ1568
10:55
10:41
Landed
Athens (ATH)
Volotea
V71287 expand_more(1)
11:00
10:44
Landed
Athens (ATH)
Aegean Airlines
A33741
11:00
10:44
Landed
Pisa (PSA)
Ryanair
FR6101
11:00
11:09
Landed
Florence (FLR)
Volotea
V71333
11:25
10:56
Landed
Altenrhein (ACH)
People's
PE562
12:59
Delayed
Cuneo (CUF)
Ryanair
FR4436
13:25
Scheduled
Bergamo (BGY)
Ryanair
FR3200
13:30
Scheduled
Rome (FCO)
ITA Airways
AZ1571
13:39
Scheduled
Barcelona (BCN)
Vueling
VY6164 expand_more(3)
13:40
Scheduled
Barcelona (BCN)
Iberia
IB5474
13:40
Scheduled
Barcelona (BCN)
LATAM Airlines
LA5790
13:40
Scheduled
Barcelona (BCN)
Qatar Airways
QR3772
13:40
Scheduled
Milan (MXP)
Neos
NO6210
13:40
Scheduled
Gothenburg (GOT)
Ryanair
FR1470
13:55
Scheduled
Milan (MXP)
Ryanair
FR4561
14:30
Scheduled
Dusseldorf (NRN)
Ryanair
FR4834
14:40
Scheduled
Brindisi (BDS)
Volotea
V71763
15:10
Scheduled
Trieste (TRS)
Ryanair
FR5601
15:20
Scheduled
Dublin (DUB)
Ryanair
FR5060
15:30
Scheduled
Amsterdam (AMS)
KLM
KL1569 expand_more(2)
16:20
Scheduled
Amsterdam (AMS)
Air France
AF3205
16:20
Scheduled
Amsterdam (AMS)
Delta Air Lines
DL9169
16:20
Scheduled
Catania (CTA)
Ryanair
FR375
17:20
Scheduled
Milan (LIN)
ITA Airways
AZ1530 expand_more(2)
17:40
Scheduled
Milan (LIN)
Air France
AF9801
17:40
Scheduled
Milan (LIN)
KLM
KL3306
17:40
Scheduled
Munich (MUC)
Lufthansa
LH1918
17:40
Scheduled
Verona (VRN)
Ryanair
FR322
18:00
Scheduled
Tunis (TUN)
Tunisair Express
UG1030
18:00
Scheduled
Bergamo (BGY)
Ryanair
FR3480
18:20
Scheduled
Rome (FCO)
ITA Airways
AZ1597 expand_more(5)
18:30
Scheduled
Rome (FCO)
Air Baltic
BT5531
18:30
Scheduled
Rome (FCO)
Air France
AF9864
18:30
Scheduled
Rome (FCO)
Bulgaria Air
FB1664
18:30
Scheduled
Rome (FCO)
Delta Air Lines
DL6702
18:30
Scheduled
Rome (FCO)
KLM
KL3637
18:30
Scheduled
Rome (CIA)
Ryanair
FR4324
18:40
Scheduled
Venice (VCE)
Ryanair
FR2978
19:20
Scheduled
Milan (LIN)
ITA Airways
AZ1560 expand_more(2)
19:30
Delayed
Milan (LIN)
Air France
AF9766
19:30
Delayed
Milan (LIN)
KLM
KL3640
19:30
Delayed
Pisa (PSA)
Ryanair
FR9931
19:40
Scheduled
Napoli (NAP)
Ryanair
FR4654
20:00
Scheduled
Bergamo (BGY)
Ryanair
FR4706
20:35
Scheduled
Budapest (BUD)
Ryanair
FR5248
20:35
Scheduled
Milan (LIN)
ITA Airways
AZ1576
20:38
Scheduled
London (LGW)
easyJet
U28331
20:40
Delayed
Rome (FCO)
ITA Airways
AZ1595 expand_more(3)
20:40
Scheduled
Rome (FCO)
Bulgaria Air
FB1666
20:40
Scheduled
Rome (FCO)
KLM
KL3466
20:40
Scheduled
Rome (FCO)
TAP Air Portugal
TP7222
20:40
Scheduled
Rome (FCO)
ITA Airways
AZ1587 expand_more(2)
21:35
Scheduled
Rome (FCO)
Air France
AF9863
21:35
Scheduled
Rome (FCO)
KLM
KL3301
21:35
Scheduled
Bologna (BLQ)
Ryanair
FR3968
22:00
Scheduled
Verona (VRN)
Volotea
V71806
22:20
21:55
Landed
Rome (FCO)
ITA Airways
AZ1599 expand_more(4)
22:50
Scheduled
Rome (FCO)
Air Europa
UX3165
22:50
Scheduled
Rome (FCO)
Air Malta
KM2581
22:50
Scheduled
Rome (FCO)
KLM
KL3636
22:50
Scheduled
Rome (FCO)
TAP Air Portugal
TP7299
22:50
Scheduled
Bergamo (BGY)
Ryanair
FR4877
23:00
Scheduled
Milan (LIN)
ITA Airways
AZ1552 expand_more(2)
23:15
22:57
Landed
Milan (LIN)
Air France
AF9800
23:15
22:57
Landed
Milan (LIN)
KLM
KL3641
23:15
22:57
Landed
Paris (BVA)
Ryanair
FR4832
23:25
Scheduled
Verona (VRN)
Ryanair
FR481
23:25
Delayed
Milan (LIN)
ITA Airways
AZ1574 expand_more(1)
23:45
Scheduled
Milan (LIN)
KLM
KL3304
23:45
Scheduled
Destination
Airline
Flight no.
Scheduled
Est./Actual
Status
Athens (ATH)
Volotea
V71286 expand_more(1)
06:00
Scheduled
Athens (ATH)
Aegean Airlines
A33740
06:00
Scheduled
Rome (FCO)
ITA Airways
AZ1590 expand_more(4)
06:25
Scheduled
Rome (FCO)
Air France
AF9884
06:25
Scheduled
Rome (FCO)
Bulgaria Air
FB1665
06:25
Scheduled
Rome (FCO)
Delta Air Lines
DL6703
06:25
Scheduled
Rome (FCO)
KLM
KL3302
06:25
Scheduled
Turin (TRN)
Ryanair
FR8689
06:30
Scheduled
Milan (LIN)
ITA Airways
AZ1531 expand_more(2)
06:35
Scheduled
Milan (LIN)
Air France
AF9770
06:35
Scheduled
Milan (LIN)
KLM
KL3643
06:35
Scheduled
Venice (VCE)
Ryanair
FR1552
06:45
Scheduled
Gothenburg (GOT)
Ryanair
FR1469
06:55
Scheduled
Rome (FCO)
ITA Airways
AZ1588 expand_more(7)
07:20
Scheduled
Rome (FCO)
Air Europa
UX3162
07:20
Scheduled
Rome (FCO)
Air France
AF9885
07:20
Scheduled
Rome (FCO)
Air Malta
KM2568
07:20
Scheduled
Rome (FCO)
Bulgaria Air
FB1667
07:20
Scheduled
Rome (FCO)
Delta Air Lines
DL6701
07:20
Scheduled
Rome (FCO)
KLM
KL3638
07:20
Scheduled
Rome (FCO)
TAP Air Portugal
TP7131
07:20
Scheduled
Milan (MXP)
easyJet
U23566
08:30
Scheduled
Rome (FCO)
ITA Airways
AZ1596 expand_more(3)
08:50
Scheduled
Rome (FCO)
Air France
AF9841
08:50
Scheduled
Rome (FCO)
KLM
KL3506
08:50
Scheduled
Rome (FCO)
TAP Air Portugal
TP7261
08:50
Scheduled
Rome (CIA)
Ryanair
FR6752
08:55
Scheduled
Zurich (ZRH)
Edelweiss Air
WK389 expand_more(1)
08:55
Scheduled
Zurich (ZRH)
Swiss
LX8389
08:55
Scheduled
Bologna (BLQ)
Ryanair
FR3967
09:15
Scheduled
Hamburg (HAM)
Eurowings
EW7863
09:15
Scheduled
Milan (MXP)
Neos
NO6211
09:15
Scheduled
Milan (LIN)
ITA Airways
AZ1573 expand_more(1)
09:30
Scheduled
Milan (LIN)
KLM
KL3303
09:30
Scheduled
Dusseldorf (DUS)
Eurowings
EW9869
09:35
Scheduled
Stuttgart (STR)
Eurowings
EW2865
09:45
Scheduled
Poznan (POZ)
Ryanair
FR7221
10:10
Scheduled
Brussels (CRL)
Ryanair
FR4416
10:15
Scheduled
Cuneo (CUF)
Ryanair
FR4435
10:20
Scheduled
Milan (LIN)
ITA Airways
AZ1567 expand_more(2)
10:20
Scheduled
Milan (LIN)
Air France
AF9769
10:20
Scheduled
Milan (LIN)
KLM
KL3307
10:20
Scheduled
Porto (OPO)
Ryanair
FR5264
10:20
Scheduled
London (STN)
Ryanair
FR2688
11:00
Scheduled
Rome (FCO)
ITA Airways
AZ1592 expand_more(4)
11:20
Scheduled
Rome (FCO)
Air Baltic
BT5510
11:20
Scheduled
Rome (FCO)
Air France
AF9883
11:20
Scheduled
Rome (FCO)
KLM
KL3639
11:20
Scheduled
Rome (FCO)
TAP Air Portugal
TP7132
11:20
Scheduled
Brindisi (BDS)
Volotea
V71762
11:30
Scheduled
Pisa (PSA)
Ryanair
FR6100
11:30
Scheduled
London (LGW)
British Airways
BA2617
11:40
Scheduled
Frankfurt (FRA)
Lufthansa
LH341 expand_more(1)
11:40
Scheduled
Frankfurt (FRA)
Air Canada
AC9679
11:40
Scheduled
Milan (LIN)
ITA Airways
AZ1551
11:40
Scheduled
Trieste (TRS)
Ryanair
FR5600
11:50
Scheduled
Florence (FLR)
Volotea
V71332
12:00
Scheduled
Milan (BGY)
Ryanair
FR3201
13:55
Scheduled
St. Gallen (ACH)
People's
PE563
14:00
Scheduled
Barcelona (BCN)
Vueling
VY6165 expand_more(2)
14:25
Scheduled
Barcelona (BCN)
Iberia
IB5475
14:25
Scheduled
Barcelona (BCN)
Qatar Airways
QR3679
14:25
Scheduled
Rome (FCO)
ITA Airways
AZ1572
14:30
Scheduled
Verona (VRN)
Neos
NO6975
14:30
Scheduled
Verona (VRN)
Ryanair
FR321
14:45
Scheduled
Milan (MXP)
Ryanair
FR4562
14:55
Scheduled
Weeze (NRN)
Ryanair
FR4833
15:20
Scheduled
Ancona (AOI)
Volotea
V71550
16:00
Scheduled
Dublin (DUB)
Ryanair
FR5061
16:00
Scheduled
Budapest (BUD)
Ryanair
FR5249
16:00
Scheduled
Pisa (PSA)
Ryanair
FR9932
16:55
Scheduled
Amsterdam (AMS)
KLM
KL1570 expand_more(2)
17:00
Scheduled
Amsterdam (AMS)
Air France
AF3204
17:00
Scheduled
Amsterdam (AMS)
Delta Air Lines
DL9379
17:00
Scheduled
Catania (CTA)
Ryanair
FR376
17:50
Scheduled
Milan (LIN)
ITA Airways
AZ1561 expand_more(2)
18:25
Scheduled
Milan (LIN)
Air France
AF9771
18:25
Scheduled
Milan (LIN)
KLM
KL3642
18:25
Scheduled
Paris (BVA)
Ryanair
FR4831
18:30
Scheduled
Munich (MUC)
Lufthansa
LH1919
18:30
Scheduled
Milan (BGY)
Ryanair
FR3481
18:45
Scheduled
Tunis (TUN)
Tunisair Express
UG1031
18:45
Scheduled
Rome (CIA)
Ryanair
FR4323
19:05
Scheduled
Rome (FCO)
ITA Airways
AZ1501 expand_more(2)
19:20
Scheduled
Rome (FCO)
Air Malta
KM2580
19:20
Scheduled
Rome (FCO)
KLM
KL3633
19:20
Scheduled
Venice (VCE)
Ryanair
FR2979
19:50
Scheduled
Verona (VRN)
Ryanair
FR480
20:10
Scheduled
Milan (LIN)
ITA Airways
AZ1559
20:15
Scheduled
Naples (NAP)
Ryanair
FR4655
20:30
Scheduled
Milan (BGY)
Ryanair
FR4707
21:00
Scheduled
London (LGW)
easyJet
U28332
21:20
Scheduled
Rome (FCO)
ITA Airways
AZ1532
21:25
Scheduled
Milan (LIN)
ITA Airways
AZ1577
21:30
Scheduled
Rome (FCO)
ITA Airways
AZ1500
22:20
Scheduled
Bologna (BLQ)
Ryanair
FR3969
22:30
Scheduled
Verona (VRN)
Volotea
V71807
22:55
Scheduled
Milan (BGY)
Ryanair
FR4876
23:25
Scheduled
Flying To and From Cagliari Airport
This page provides information about the destinations that can be reached via Cagliari Airport.
Was your flight delayed or cancelled?
You may be eligible to receive up to 600 EUR compensation per person in your party..
Claim Now!
Beat the Queues
Don't stand sweating for 45 mins waiting for Security. Get a fast track and get through in 5 mins or less.
Book now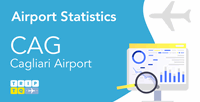 According to available records, the airport welcomed a remarkable 616,457 passengers during that month, representing a phenomenal increase of 151.99% compared to the figure recorded in July 2020, when passenger numbers stood at 244,628...